Broad-Spectrum Effectiveness
In-vitro testing shows 99.9% effectiveness against bacteria, fungi and viruses at extremely low minimum inhibitory concentrations (MIC).
Zentek's patent-pending graphene-based formulation has achieved excellent safety results and has the potential to be a game changer for treating human-contracted pathogens and infectious disease management.
Zentek has completed cytotoxicity studies demonstrating the safety of its compound as an agent that can potentially be used to fight broad spectrum infections in the upper and lower respiratory tract, eye, ear and topical that are caused by bacteria, viruses and fungi.

"

In the clinical setting, if the compound can be shown to be safe and effective, it could provide a breakthrough alternative therapy with potentially significant impact on the practice of family medicine.

—

Dr. Tony Mazzulli, MD, FRCPC, FACP, Microbiologist-in-Chief and Infectious Disease Specialist at University Health Network/Mount Sinai Hospital
Antimicrobial Resistance (AMR) – Fighting A Global Threat
The World Health Organization lists AMR as a top 10 global public health threat facing humanity, largely due to the misuse and overuse of antimicrobials.
With significant human impact and additional global healthcare expenditures expected to reach US$1.2 trillion annually by 2050 due to AMR, it is clear why the WHO, numerous AMR-focused organizations, and some of the world's largest and most innovative companies are allocating substantial resources to this cause. To address this global threat, we believe novel, broad-spectrum and antimicrobial agents are needed, and we are demonstrating that nanotechnology and our graphene-based compound can potentially play a key role. Recent results have shown our patent-pending graphene-based compound is effective against four gram-positive and nine gram-negative bacteria with antimicrobial-resistance, including multidrug-resistant variants like methicillin-resistant staphylococcus aureus (MRSA).
We have the support and endorsement of top medical experts who also believe in this compound's potential. Zentek is now at the stage where we are moving to a pathway of preclinical trials research and are actively engaging with research organizations, government and other potential partners to bring this compound to market as quickly and effectively as possible.
We are consulting with multiple groups and regulatory agencies on how to fast-track this technology given its potential to help address the growing global threat of antimicrobial resistance and the SARS-CoV-2 virus and its variants.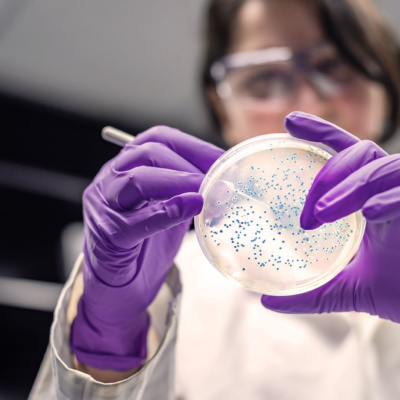 "

A novel approach to the use of this graphene compound for treatment of common respiratory tract infections, while minimizing any potential toxicity, is to use it topically. This could have multiple applications, including the following: as an intranasal spray or mixed with normal saline to create a solution for use as a sinus rinse for the treatment of sinusitis and other common upper respiratory tract infections; as a puffer or inhaler for the treatment of lower respiratory tract infections such as pneumonia; or, as an ophthalmic solution for the treatment of conjunctivitis or pre-op preparation for ophthalmic surgery. Given its activity against Pseudomonas aeruginosa and S. aureus, it may also play a role as a topical otic solution for the treatment of Otitis Externa infections, commonly caused by these organisms. This would maximize local concentrations directly at the site of infection and avoid having to administer it systemically (orally or parenterally).

—

Dr. Tony Mazzulli, MD, FRCPC, FACP, Microbiologist-in-Chief and Infectious Disease Specialist at University Health Network/Mount Sinai Hospital
Significant Potential as a Multi-use Antimicrobial
Zentek is currently pursuing the following pathways to allow for rapid commercialization:
Topical

Current testing on methicillin-resistant staphylococcus aureus (MRSA) and psoriasis; future testing on acne, diabetic foot etc.