Safer Indoor Spaces
ZenGUARD™ Enhanced Air Filters utilize next-generation graphene for unparalleled filtration performance and effectiveness. Their simple design can seamlessly slot into existing HVAC systems, immediately enhancing viral filtration efficiency while saving significantly on costly upgrades and additional training. This increased filtration performance can boost employee health and consequently lead to reduced absenteeism (along with associated healthcare costs) – without an associated increase in pressure drop, energy use, or carbon emissions.
The Future of Air Filtration


Significantly Enhanced Viral Filtration Efficiency


Reduce Absenteeism and Healthcare Costs


Fully Compatible with Existing HVAC Systems


No Increase in Pressure Drop, Energy Use, or Carbon Emissions


Made in Canada and Third-Party Validated
Indoor Air Quality: A Global Challenge
Poor indoor air quality can lead to unhealthy work or living spaces. The impact this causes on both health and business is significant. In the workplace alone, this can affect both performance and revenue:
-$16.6B
Estimated Lost Revenue in CAD Annually Due to Absenteeism1
+$7.5B
Estimated Revenue Gain in CAD Due to Air Quality-Related Improved Performance2
What if there was a way to make indoor spaces safer without using more energy or buying new equipment?
The ZenGUARD™ Difference
ZenGUARD™ Enhanced Air Filters are air filters enhanced with the patented ZenGUARD™ formulation. They slot seamlessly into existing HVAC systems, improving viral filtration efficiency without the need for any additional training or any additional modifications to the HVAC system itself. This improved filtration leads directly to improved employee health, which in turn leads directly to savings due to reduced employee absenteeism and burden on our healthcare system.
ZenGUARD™ Enhanced Air Filters Make Indoor Spaces Safer
~56%
Average increases in viral filtration efficiency compared to uncoated filters over six months with dust loading.
Real World Return-On-Investment
>$15,000
Annual absenteeism cost savings when using a ZenGUARD™-coated MERV 9 filter when compared to an uncoated MERV 9 filter as shown in an independent study by ParticleOne.
(Assuming 10,000 sq. ft. office space with 75 people.)
Next-Generation Viral Filtration
ZenGUARD™ leverages the revolutionary nanomaterial graphene to deliver significantly enhanced viral filtration capability.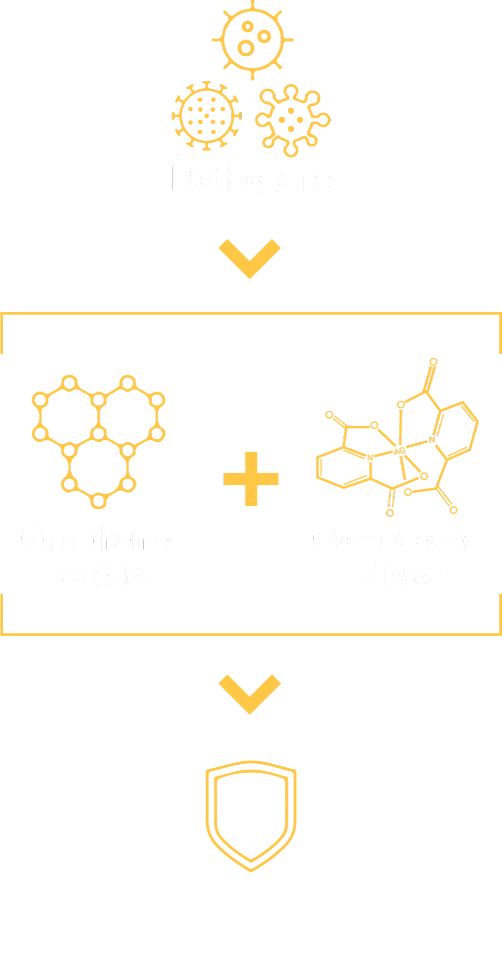 Third-Party Validated
Innovative Solutions Canada


ZenGUARD™ answered Innovative Solutions Canada's call to identify indoor air quality solutions that achieve a net reduction in airborne viral load without requiring modifications to existing HVAC systems, reducing air flow rates, or compromising air quality.
National Research Council Canada


Underwent rigorous testing in a modular room, simulating a real-world classroom environment. National Research Council Canada's validation confirms ZenGUARD™'s effectiveness in capturing airborne viruses, contributing to safer indoor spaces. Subsequent testing by LMS Technologies Inc. confirmed ZenGUARD™-enhanced filters delivered significantly enhanced viral filtration efficiency with dust loading.
ParticleOne


ParticleOne, renowned for its virus-resiliency software, evaluated ZenGUARD™'s filtration performance. The results showcased its powerful antimicrobial action, effectively reducing the spread of infectious particles and enhancing indoor safety. It also proved significant correlation and potential cost savings from absenteeism related to poor indoor air quality. Further risk assessment research corroborated the potential for savings in the workplace due to the reduction of absenteeism and productivity losses caused by sickness.
Contact Zentek
Get in touch with a Zentek specialist for all inquiries regarding commercial opportunities, sales, regulatory affairs, investing, and all other executive and administrative information.
Get In Touch
Claims related to ZenGUARD™ that are referenced on this website may not be valid for use in all countries or regions, due to regulatory differences. Results are based on 3rd party research. Results may vary by manufacturer. In some cases, legal regulations may restrict or prohibit the promotion of specific ZenGUARD™  technologies, the field of application for which they are approved, and/or the permissible claims for goods containing ZenGUARD™  technologies. Contact us for more information.